Doreit S. Bialer, OTD, MA, OTR
Occupational Therapist
Dr. Bialer is an experienced seminar leader, educational adjunct instructor and has lectured and provided numerous clinical workshops on Sensory Processing Disorder, Handwriting, Motor Learning, Pediatrics and on School Based Therapy. She has been an independent provider and consultant to school districts, and to preschools and is an active member of the American Occupational Therapy Association.
Dr. Bialer provides Professional Development Workshops to a number of teachers sharing her knowledge. Dr. Bialer is a graduate of New York University in which she received her B.S and Advanced Masters degree in Occupational Therapy. She has completed her post professional doctorate in occupational therapy from Rocky Mountain University in the area of Pediatric Science. Dr. Bialer holds certifications in Neurodevelopmental Therapy in both Pediatrics and Adults and in the Administrations and Interpretation of the Sensory Integration and Praxis Tests.
Dr. Bialer is a certified Pilates Mat Instructor and holds a Personal Training Certification from Hofstra University Academy of Applied Personal Training Education (AAPTE).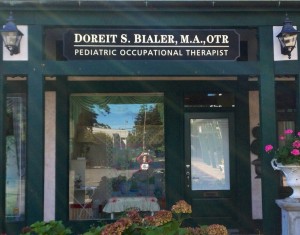 Doreit has written a book, co-authored by Dr. Lucy J. Miller and the Star Center called No Longer A SECRET; Unique Common-sense Strategies for Children with Sensory and Motor Challenges. This book is published through Sensory World, 2011 (Future Horizons). Doreit is an Advanced Mentored Clinician in Sensory Processing Disorder and studied under the guidance of Dr. Lucy J Miller and Dr. Sarah Shoen. Dr. Bialer, currently is a private practioner, working in a state of the art sensory gym in Locust Valley, and dedicates her professional life in working with children and families. She considers herself to be an evidence – based practioner, who goal is help children and families successfully function and participate in the home, school and within the community.
Doreit is a certified Naui and PADI scuba diver. She is Certified in Adult and Pediatric CPR, first Aid and AED through Red Cross. (9-2018)
I am pleased to announce that I am a certified Safe and Sound Polyvagal Therapy therapist! The Safe and Sound Protocol is an evidence-based therapeutic tool designed to reset the nervous system and return it to safety. Designed to work with other therapeutic approaches and modalities, the SSP features specially filtered music that stimulates the vagus nerve.

The music is designed to stimulate the vagus nerve, which is responsible for calming the nervous system. This allows for enhanced social engagement and resilience in children and adults. Please inquire with any questions or if you are interested in the Safe and Sound Therapy program.